I arrived in Oslo, Norway, on a warm evening last year in August, after an hour-long flight from London and an hour-long bus ride from the airport to my friend Trina's apartment, where I was to stay for the next two weeks. Though I was confident I'd followed Trina's careful instructions on where we were supposed to meet, I still felt that warmth of relief when I saw her emerge from the high-rise apartment block across the road where I'd just gotten off the bus. We exchanged cheesy grins and hurried towards each other, embracing like fools in the traffic island at the centre of the crossing. It had been a few years since I had last seen my childhood best friend, who'd moved from Australia to her home country of Norway soon after we graduated university a decade or so ago.
Here's a little recap of what we did for the next two weeks, the first in Oslo and the next exploring the Fjords of the western coast, in case you're planning a trip to Norway in August, or just in the mood for a little wanderlusting…
Oslo Badstuforening, Sukkerbiten (Sauna)
Trina had us booked in for a sauna visit the morning of our first Saturday together. When she first told me about her booking, I remember thinking how nice it would be to finally relax after the whirlwind trip I had had so far: first a wedding I'd attended as a very jet-lagged guest, then driving around the southern coast of England for a week, followed by a heatwave in London not seen in years. An hour or so of resting was a very welcome idea; I didn't think there would be much to it besides sitting in a sauna, you know, a small wooden-clad room, maybe within a gym, and an hour or so of relaxation.
I was clearly mistaken. Oslo Badstuforening in Sukkerbiten – the sauna Trina had booked – floats just off Oslo's waterfront, where city meets fjord. It's a colourful collection of miniature cabins each different to its neighbour in shape and function, yet each offering an equally stunning sauna experience far exceeding anything I had expected. The cabin furthest from the waterfront was fitted with expansive glass windows that granted unobstructed views of the fjord, another a runway on its roof for those brave enough to use to leap out into the mountain view before plunging into the water. We spent the morning swimming in the cool fjord, wrapping ourselves in heat inside the sauna cabins and then resting atop said cabins in the sun. It was glorious.
If you do find yourself in Oslo, I'd definitely put this sauna on your to-do list. Just be sure you book online, as it's a popular activity among locals and visitors alike.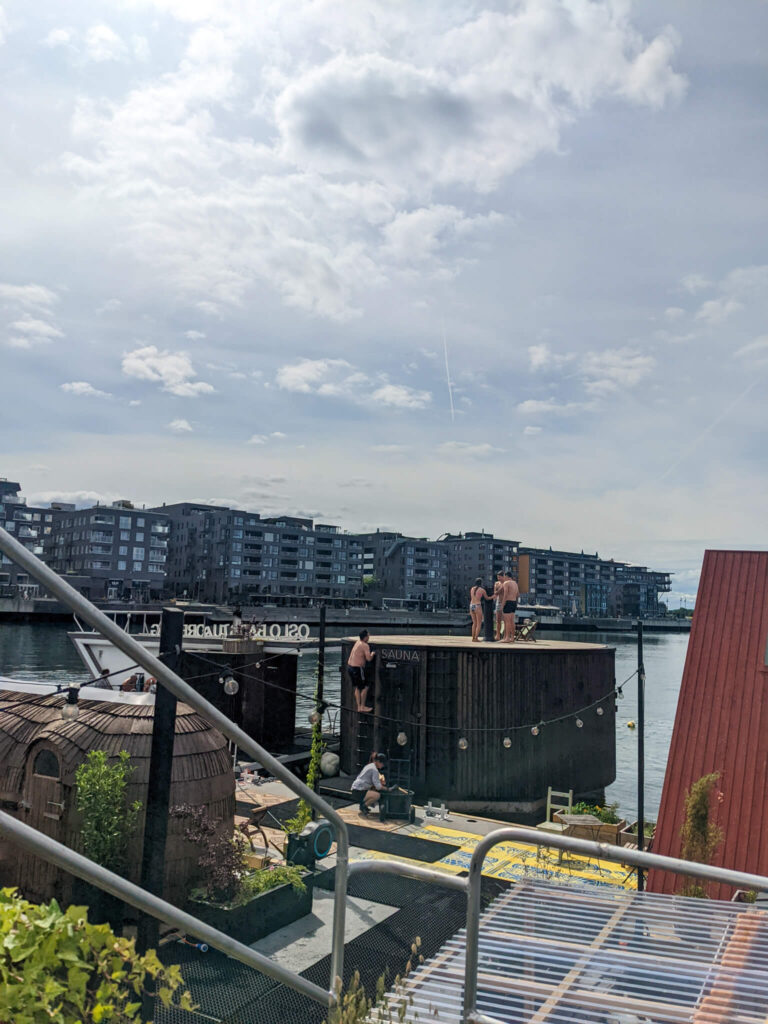 Brunch at Dapper Bistro
After the sauna, we walked to Dapper Bistro for our first meal of the day, a block or so in from the waterfront. Doubling as a trendy clothing boutique, Dapper's setting is light and spacious, with tables sprawling outside during the warmer months, where Trina and I chose to sit in the sun. That we were facing the neighbouring local florist, whose colourful blooms spilled out of the front door, only added to the morning's charm.
Dapper Bistro's menu is quirky; you won't find your classic eggs and bacon here, but your breaky favourites are still weaved in with local ingredients to form eclectic dishes, and you can get delicious coffees to go with. (You can ask for an English menu, but they'll probably offer one as soon as they see your confused faces.)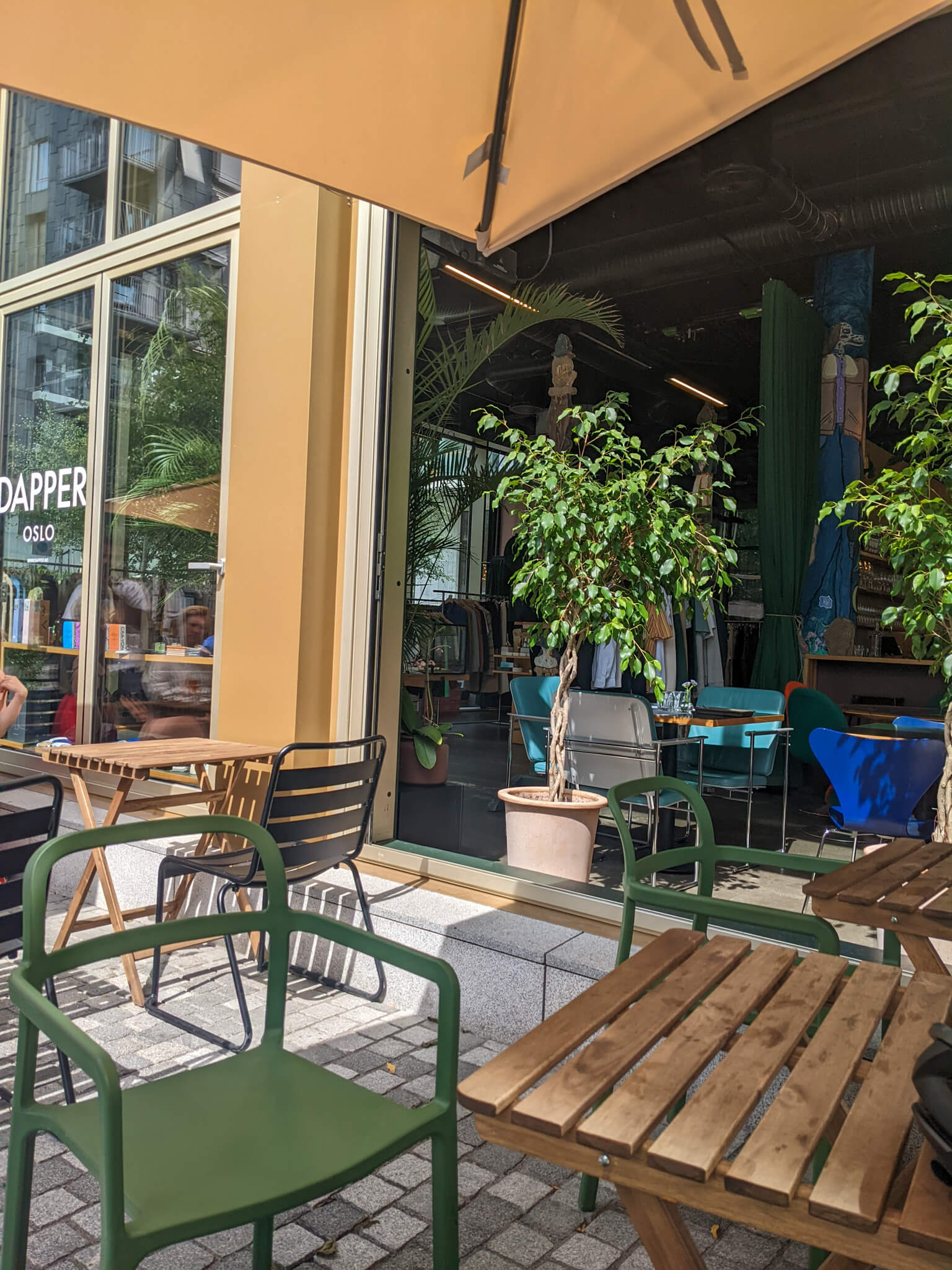 Txoxt restaurant
Dinner that night was at Txoxt, a bustling Basque restaurant located a short walk northeast of the city centre. Basque is a region in northern Spain, and its cuisine lesser known, but no less delicious, than other Spanish dishes. Have you heard of pintxos (pronounced peen-tchos)? Bite-sized, mostly wood-fired snacks, pintxos are Basque's version of tapas, as tapas actually come from the south of Spain. Apparently, the difference between pintxos and tapas lies mostly in the fact that the former are stabbed with a skewer or toothpick for serving.
Pintxos are meant to be shared and devoured; small plates crowded the tabletops at Txoxt and it became quickly apparent why much of the restaurant's floor was consumed by a giant communal table: this is a place to meet new friends while sharing delicious food. It was clamorous and busy but joyful and warm; the smell of wood-fired food mouth-watering. The tastes didn't disappoint, either!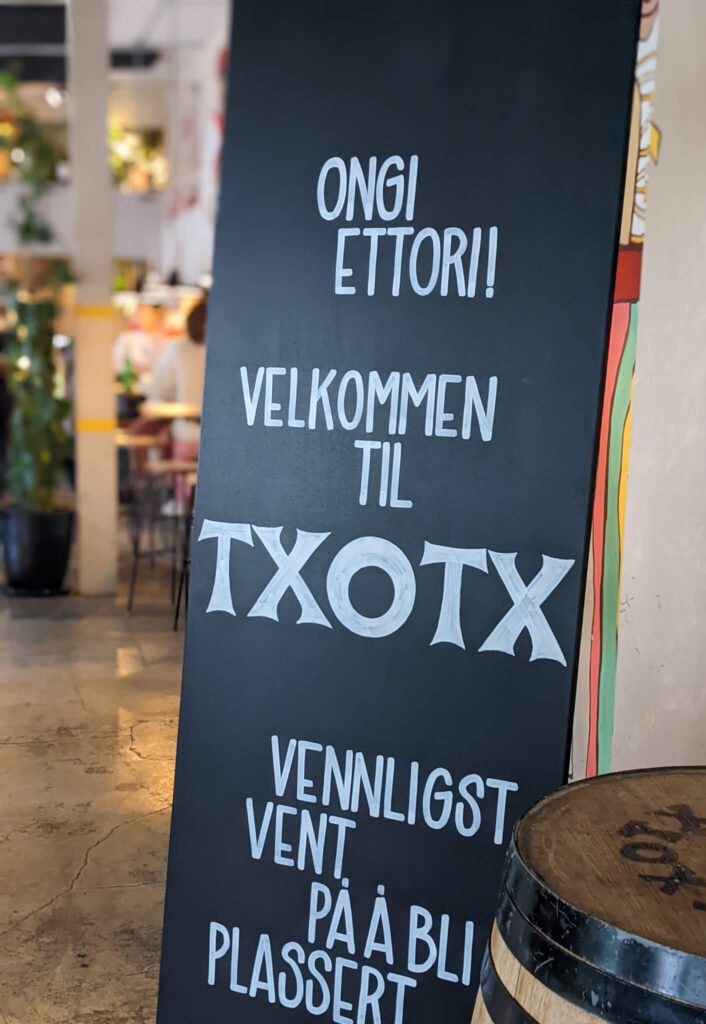 Ålesund
The next morning we flew from Oslo to Ålesund on Norway's west coast. Upon arrival we were picked up by Trina's partner's father, who lives there. After a quick swap of cars and to drop Dad off, we drove from the airport to their family cabin in the mountains near Måndalen in the region of Møre og Romsdal. When Trina first mentioned 'cabin' to me, again, my thoughts were far from reality; I was thinking small and cosy, but when we pulled up the gravel drive, we were met by a pair of wooden cabins, the first of which as big as my house in Brisbane. Both had low-sloping pitched roofs atop timber-clad bases painted a deep, dark red, and a series of white, six-paned windows contained within neat black trim. In the distance, a view of the beautiful Romsdalsfjorden greeted us one way, and snow-capped mountains the other.
Inside the main cabin, everything was made up as if waiting for our arrival. Double beds and bunkbeds lined almost every wall of the two bedrooms, each made up with matching single duvet and pillow sets. (Even the double beds had two separate single duvet sets; the Norwegians clearly know how to promote peace between those who share their bed at night… no cover stealing!) The walls were laden with family pictures and the shelves, the window sills and mantlepiece with decorative ornaments and trinkets. Rugs layered the floor of the living room and gathered curtains of patterned fabric softly framed the windows. It was all incredibly cosy and homely.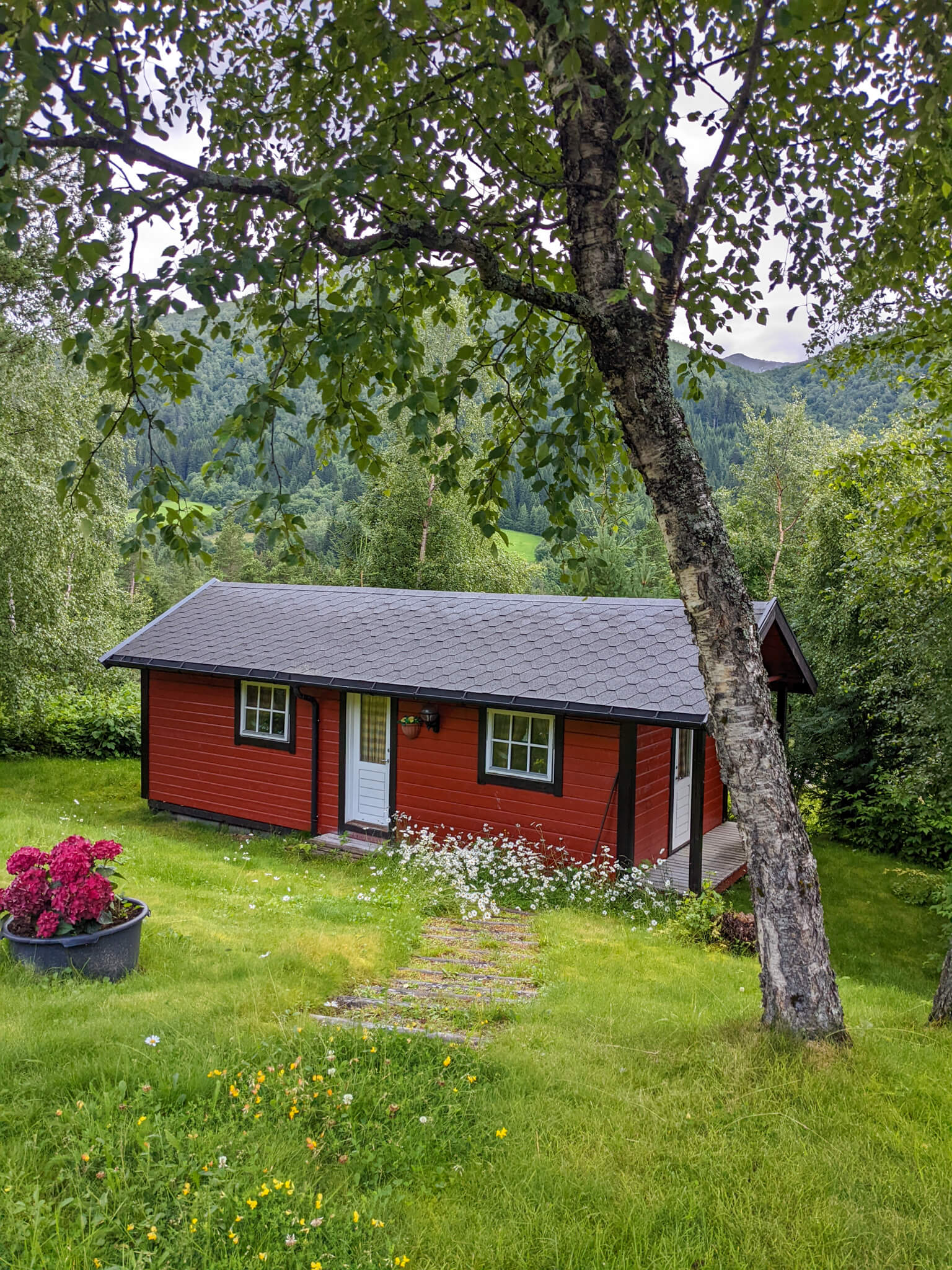 On our first afternoon here, we hiked to a nearby lake, where Trina's partner went fishing, while she and I escaped the winds (which had picked up by then) in a tiny cabin nearby, built for respite for trekkers. With just two bunks, a tiny wood-burning stove, bench and stool, the cabin was small but offered welcome shelter from the winds and, soon enough, the rain too. Inside, we found an old deck of cards, matches, candles, snacks, cooking implements and other provisions to help those who found themselves there in a time of need make that time easier — if only to help it pass, and warmly. We soon unearthed a well-worn journal, which we discovered held memories of past travellers' use of and gratitude for the cabin. As most were written in Norwegian, I had Trina translate them for me. We left our own note, which I wish I took a picture of now because I don't remember what we said!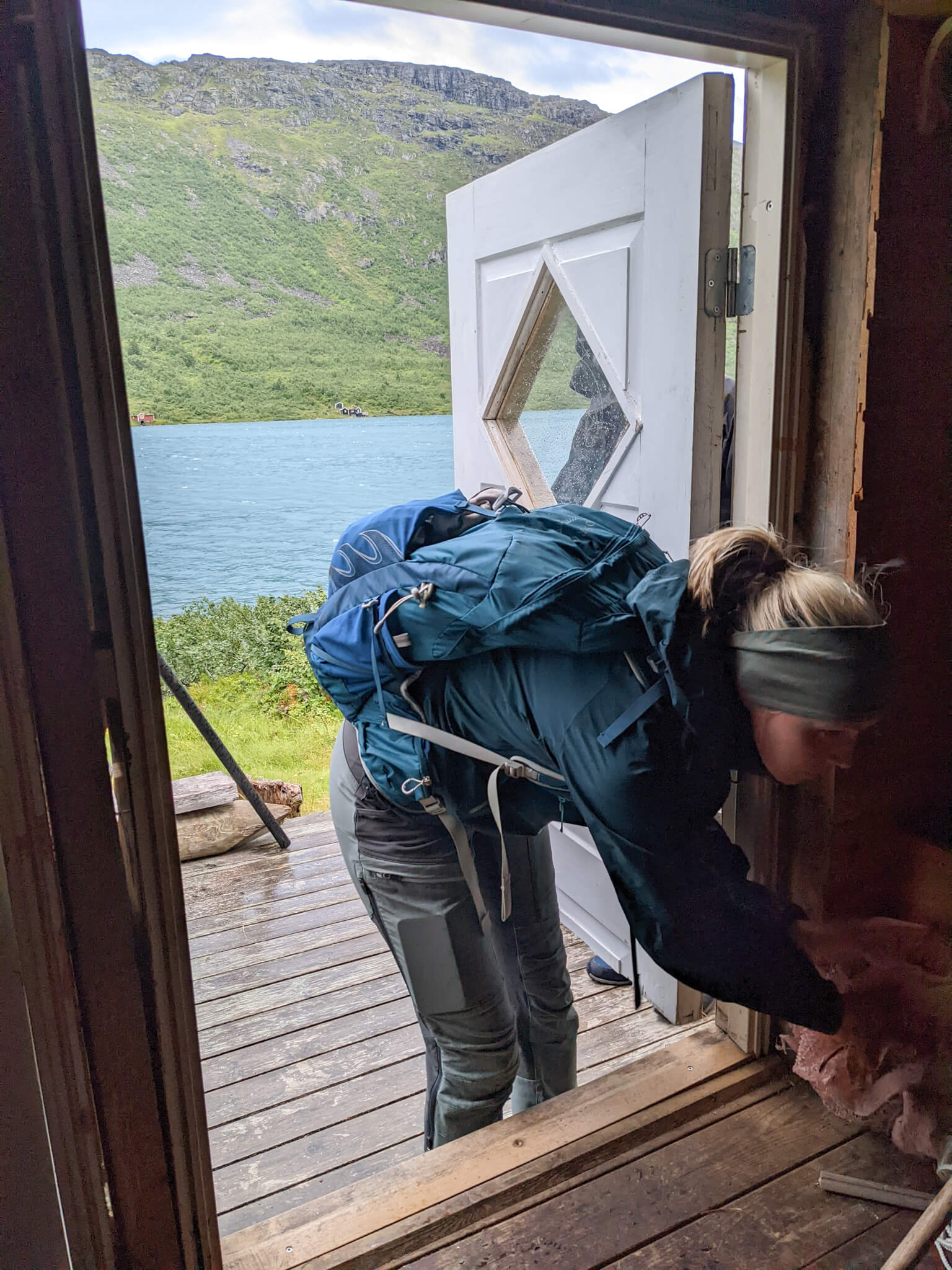 Åndalsnes
The next day, we made for the town of Åndalsnes for a hike. This one was far more gruelling than the previous day's: a near three-and-a-half-kilometre trail that ran about 480 metres mostly uphill from Åndalsnes, past the famous Rampestreken viewpoint, and to the top of Nesaksla Mountain.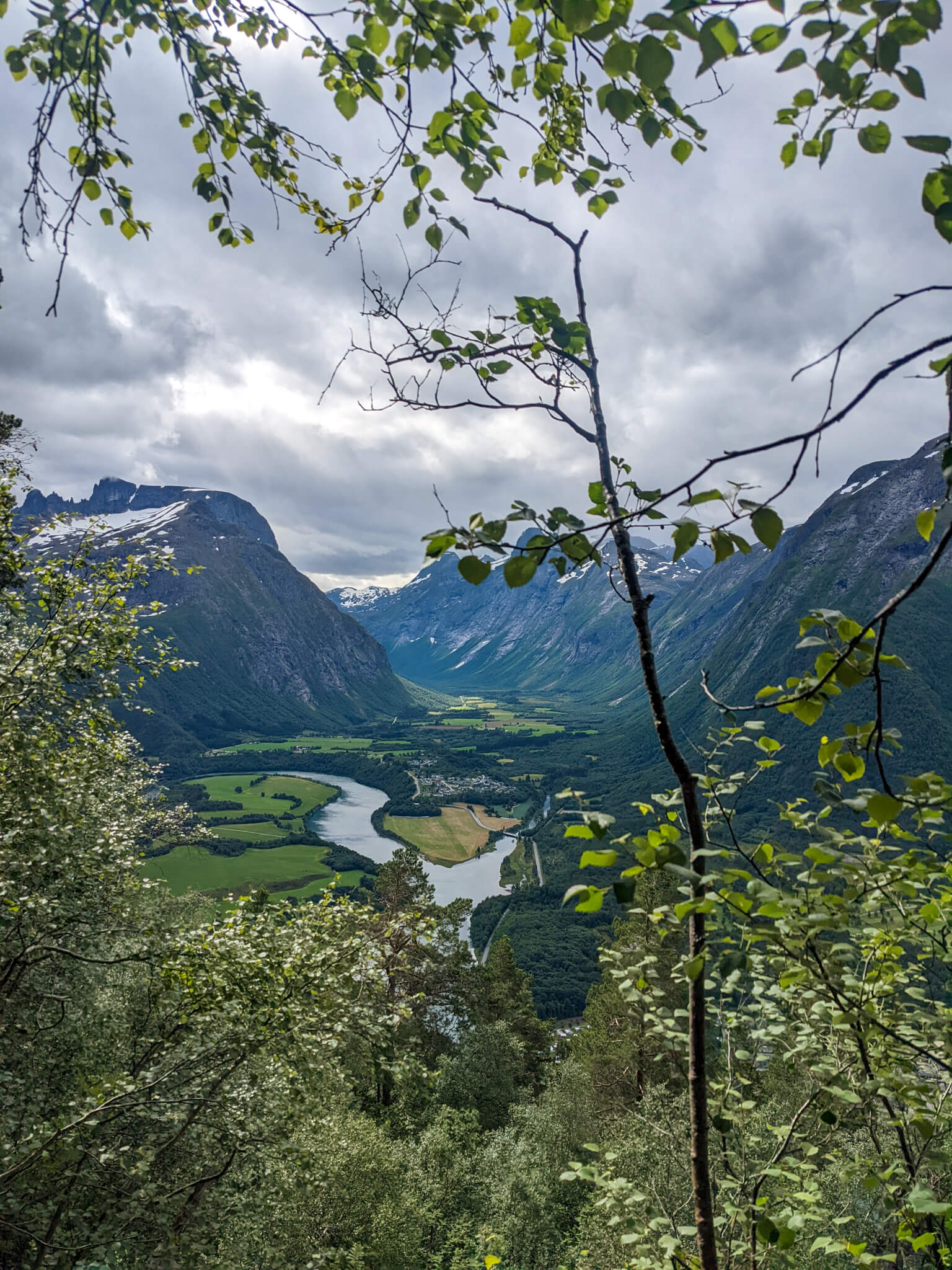 I will admit I was relieved to see the top when we finally did, breathless and sweaty and cursing my decision to wear thick socks and long pants in summer. The view of the surrounding mountains and fjords of Romsdalen was gorgeous, and the weighty, sticky cinnamon bun we enjoyed at the top extremely satisfying.
The restaurant there, Eggen Restaurant, sits a total of 708m above sea level, and those who want a meal but without a side of sweaty hike can take Norway's longest, state-of-the-art Romsdalen Gondola 1,679 metres up the mountainside to it. However, I can't say if the cinnamon buns would taste quite as good without all that fresh mountain air and exercise beforehand…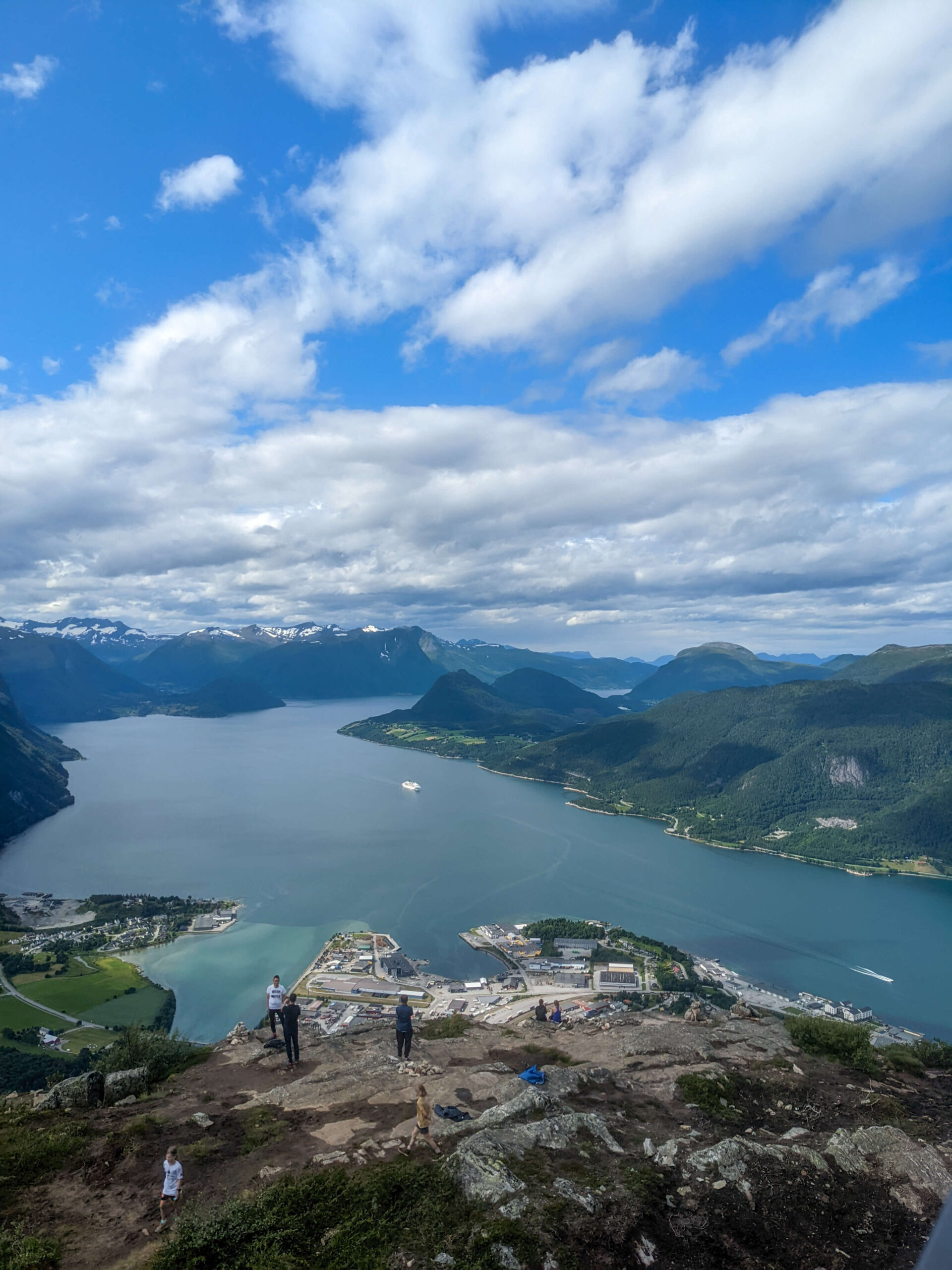 We did, however, purchase a ticket for gondola to cover the journey down the mountain, where we could enjoy the spectacular views we missed while climbing within the dense forest on the way up.
Norwegian Svele (Sveler med Smørkrem)
The next few days we spent enjoying the cabin, catching up on work, and exploring the city of Molde, which lies at the shore of the Romsdalsfjord. We took a ferry to get to Molde on an overcast day, where I had my first taste of (and fell deeply in love with) the Norwegian 'svele'. I highly recommend you indulge in this snack, traditional of the cafes on the ferries that shuttle between the fjords of the west coast, connecting village to village. The svele is a golden-brown, crispy-on-the-outside, fluffy-on-the-inside pancake which is folded over a generous slab of sweet buttercream. My excitement for the fluffy, buttery, golden-brown snack may have later prompted Trina's partner to purchase an actual svele maker so we could try and recreate the classic ourselves back in Oslo!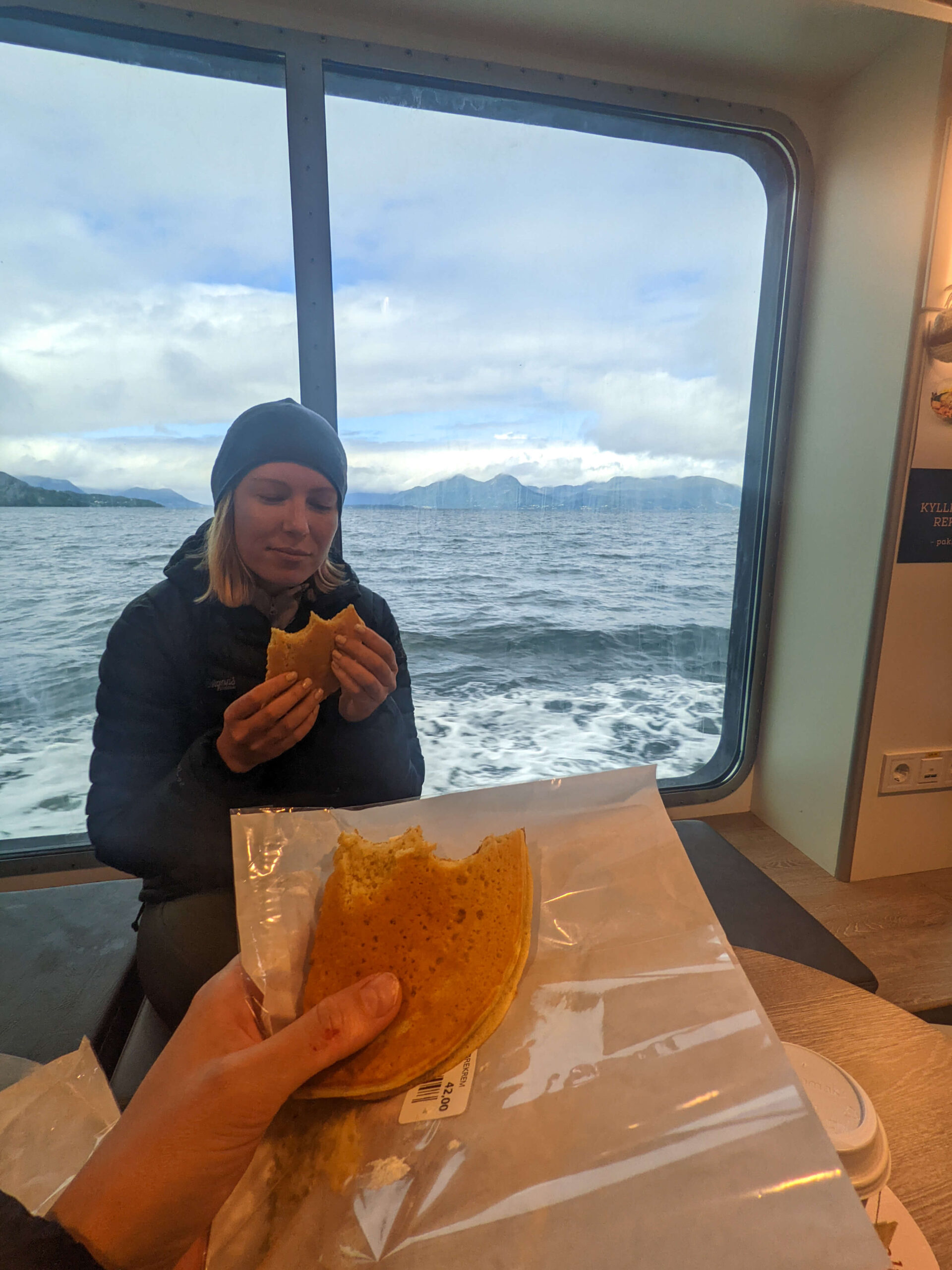 Trollistigen
On our last few days on the west coast, we drove from Åndalsnes to Valldal on the iconic Trolligsten road, which slices steeply up the rugged mountains in a series of hairpin bends in what is a serious feat of road building. As we winded our way through the cleft of the valley from Åndalsnes, the mountains surged like tremendous waves frozen in time around us. It wasn't until I saw tiny specks of movement ascending the face of the mountains ahead that I realised there was a road, and a way, for us to continue beyond the great hulks of earth that effortlessly obstructed our path.
Crawling the spiralling road to the plateau, one in a slow-snaking queue of vehicles that included an overwhelming number of campervans, we greeted a different section of a waterfall, Stigfossen waterfall, that rushed down crevices in the rock. The sound of water slapping on rock only served to heighten the journey's thrill. The queue slowed to a stop at times, as we yielded to oncoming traffic to navigate the narrow bends in turns. It slowed again as crossed the Stigfossen fall on an old stone bridge, as the passengers admired the view and probably snapped a few photos.
Once we'd explored the viewpoints at the top of the mountain pass and admired the views and breathtakingly clear water that feeds the Stigfossen waterfall, we continued on to Valldal.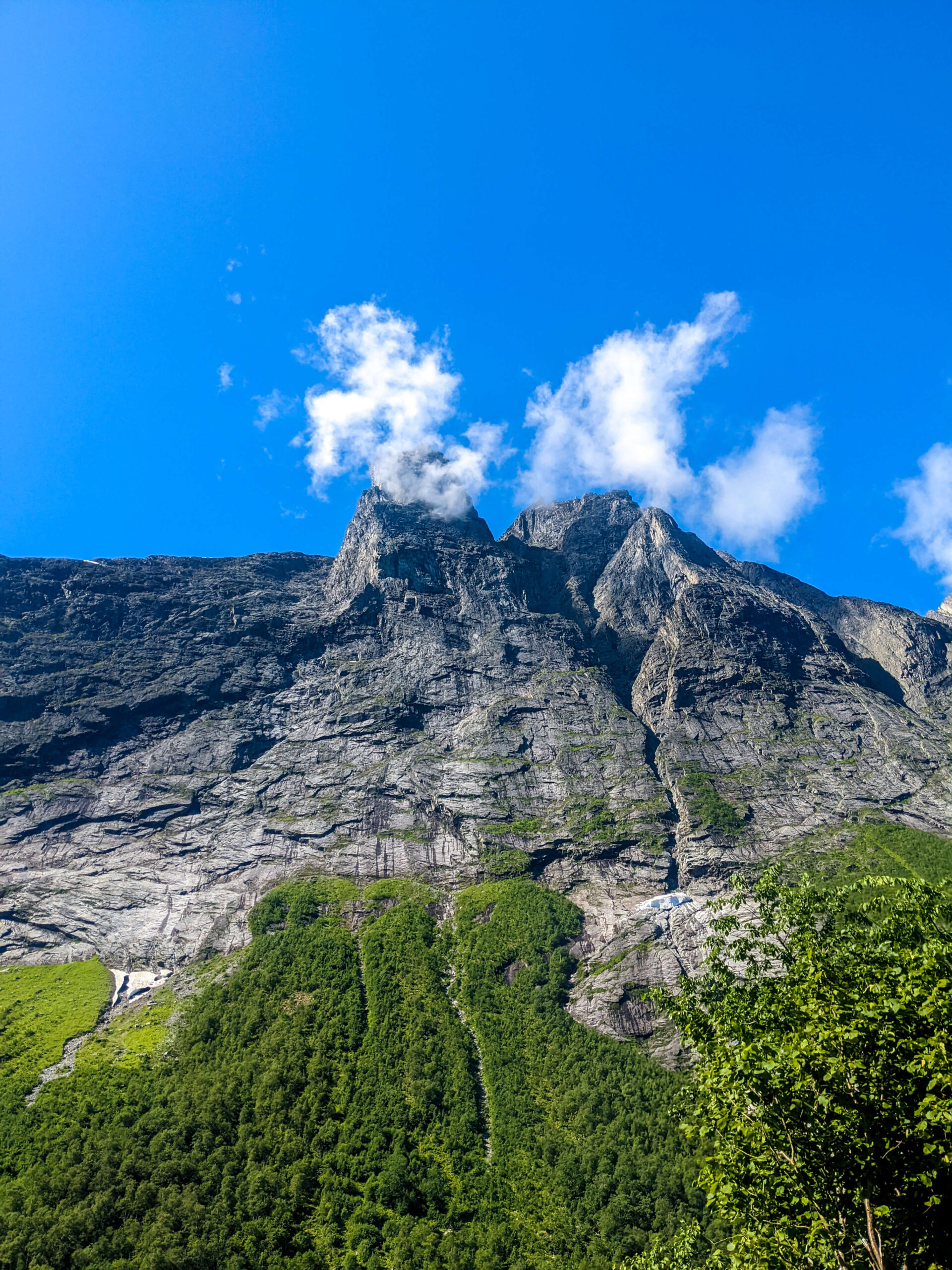 Valldal
For as long as I live, I will remember Valldal as the land of the most delicious strawberries I've ever tasted. Plump, glossy red and sold directly from growers at roadside stalls, strawberries thrive here due to the region's temperate climate. In fact, I've since learnt that Valldal is known as the 'Strawberry village on Sunnmøre' with perhaps the best strawberries in all of Norway. We bought a few punnets from a roadside stall and devoured them on the way to and at the Valldal waterfront (we couldn't wait).
Afterwards, we hiked up the nearby mountain with (surprise) more spectacular views of the fjord. It was a beautifully clear summer's day, where the sun bathed the landscape in a spectacularly bright light. Yellow and white wildflowers scattered the verges like confetti, and clusters of lupines blossomed nearer to the top of the mountain, their vibrant purple flowers reaching beyond the tall grass for the sky. Gravel crunched underfoot as we hiked up the trail, a continued elevation until the top, the air heady with the earthy smell of grass. We passed sheep on our way, and I was delighted to see the traditional norwegian cabins with grass growing on their roofs at the top of the mountain: 'turf houses', so they are named.
We spent the night at Trina's partner's childhood home, and returned to Oslo the following day.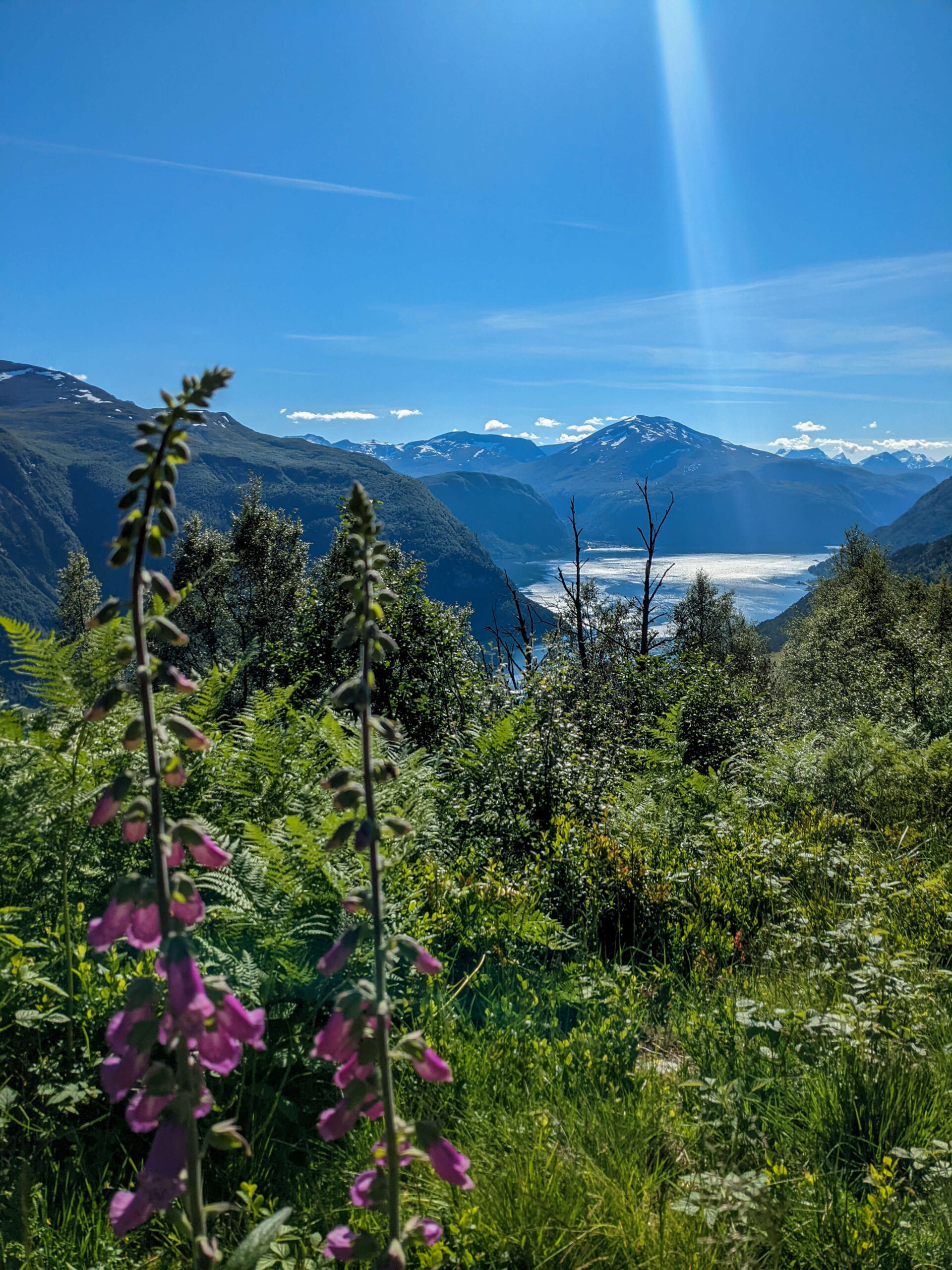 Nordmarka forest
Back in Oslo, Trina and I packed our swimmers and towels and lathered up in sunscreen for a walk and swim in the Nordmarka wilderness area, which is just north of of Oslo.
Nordmarka's many dirt trails offer easy strolls and its grassy clearings provide ample space for picnics. Pristine fresh water weaves its way throughout the forested areas, pooling in beautiful lakes perfect for swimming. The day was bright and beautiful, the sun's warmth tempered by a gentle breeze, and the lawns speckled with people and picnic rugs.
Trina and I walked for an hour or so to one of her favourite hidden lakes in the area, beside which we hung our hammocks and enjoyed the afternoon sun. Trina braved a dip, but the breeze was too cool to tempt me.
Deichman library
The next few days we spent working in Oslo. On one of them, I took myself and my laptop to the Deichman Bjørvika library in the city while Trina spent the day at her office nearby.
The Deichman Bjørvika library is new to Oslo, opening to an eager public in mid-2020 after eleven years of development. It stands at the edge of the Oslofjord as an angular feat of modern architecture similar to its neighbours: the Oslo Opera House and the relocated Munch museum.
To me, the Deichman's exterior seemed almost entirely composed of glass and mirrors, and its cantilevered top level appeared to defy structural integrity. But I suppose that's the point.
Travelling the escalators at the throat of the library's skylight-topped atrium, I glided past open levels that revealed jet-black and stark-white bookshelves, exposed concrete and glass railings. I settled on the third floor and, winding myself around the bookshelves, found myself in an open workspace surrounded by floor-to-ceiling windows with views of the Oslofjord. Not a bad way to get the day's work done, I didn't think!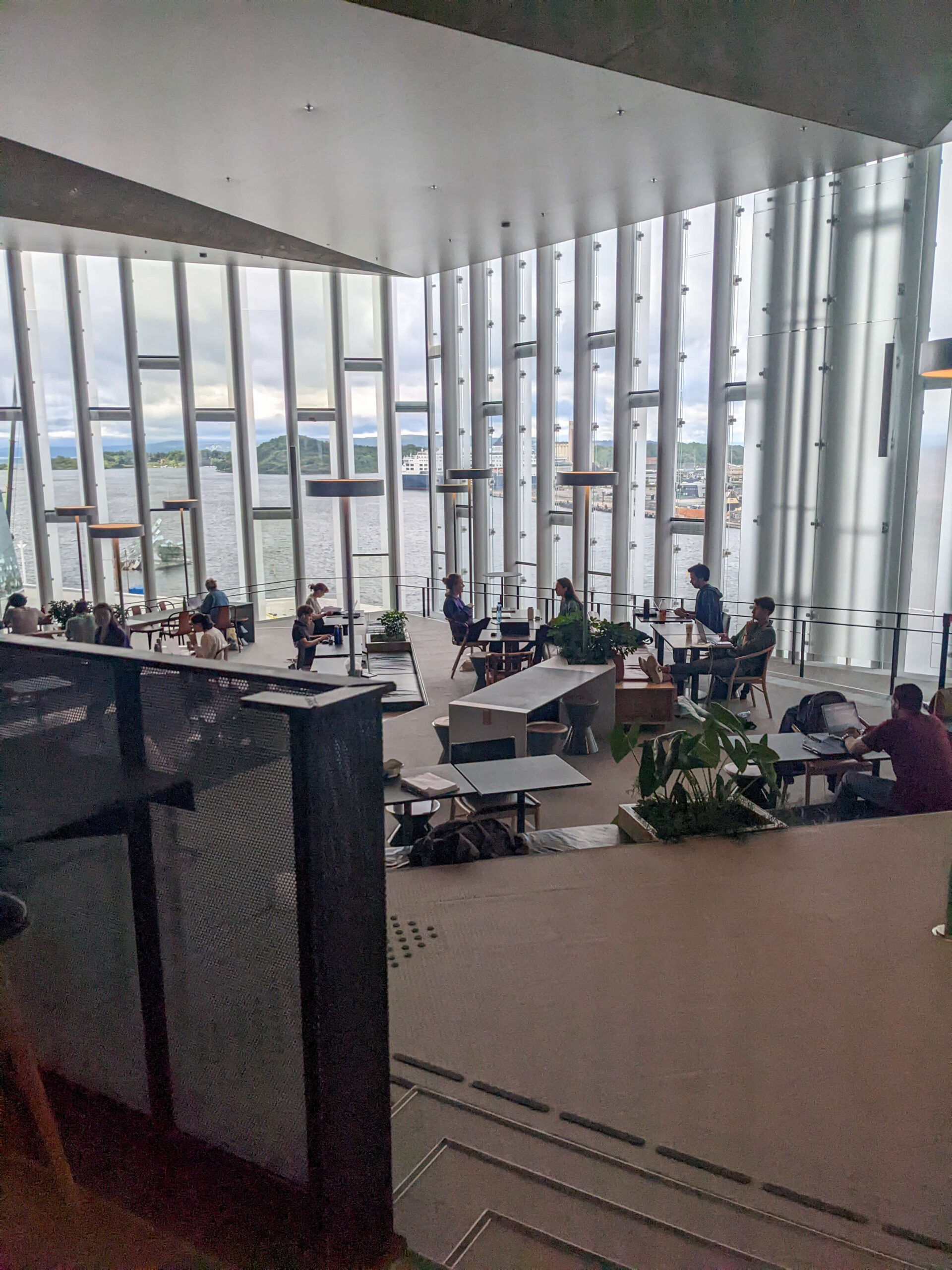 Koine Ramen
The very same day, I chanced upon Koine Ramen in a laneway before the main marketsquare of Oslo, as I walked through the city looking for lunch. Noticing it was busy, I ducked inside. I was pleasantly surprised by how delicious their pork tonkotsu was. I noticed several of what I assume were businesspeople getting their lunch fix on break, too, which I took as a good sign that it was a local staple.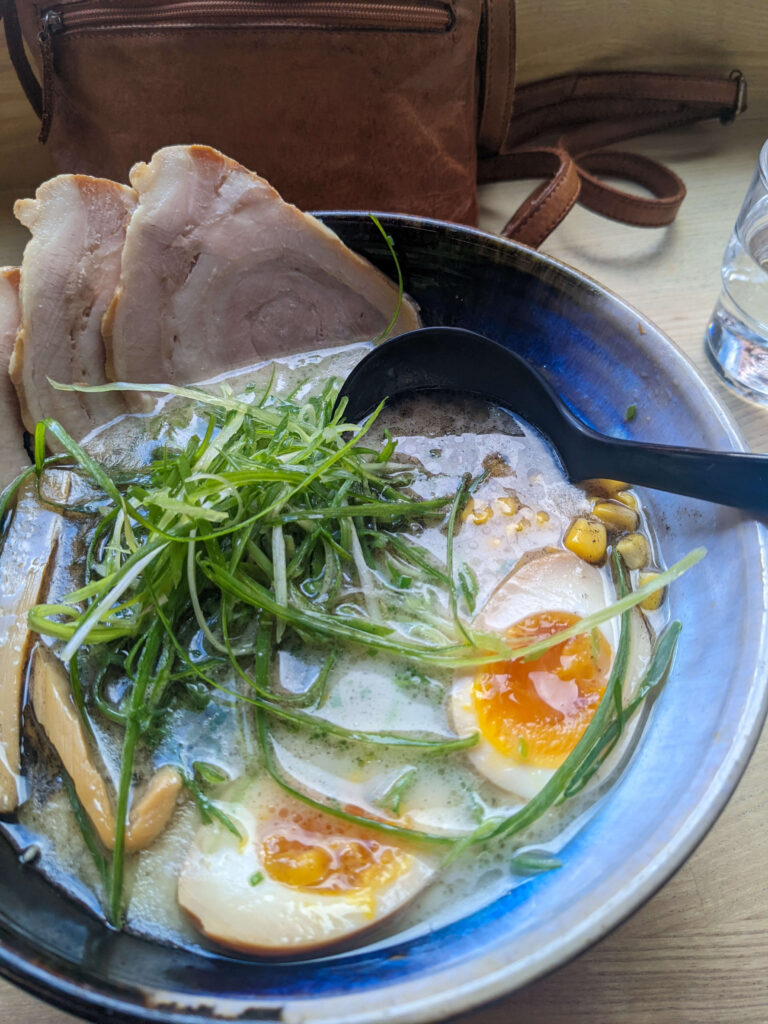 Skjennungstua
On our last weekend together, Trina and I returned for another hike in Nordmarka, this time to the Skjennungstua cabin atop of Skjennungsåsen hill, where I enjoyed the best cinnamon bun I've ever tasted in my life.
On our way back, we walked past a secluded lake so clear and so beautiful that we had to stop for a swim, though we had already, by that stage in the late afternoon, convinced ourselves against stripping down and getting wet. But it was just too good not to. So we clumsily replaced our sportswear for swimwear and took the plunge. The water was freezing at first, but refreshing once I had gotten use to it. We swum to the pontoon in the centre of the lake and, once there, we lay on top its wooden surface and let the afternoon sun dry and warm us — we stayed this way until the sun teetered just above the treetops, ready to douse our lake in shade.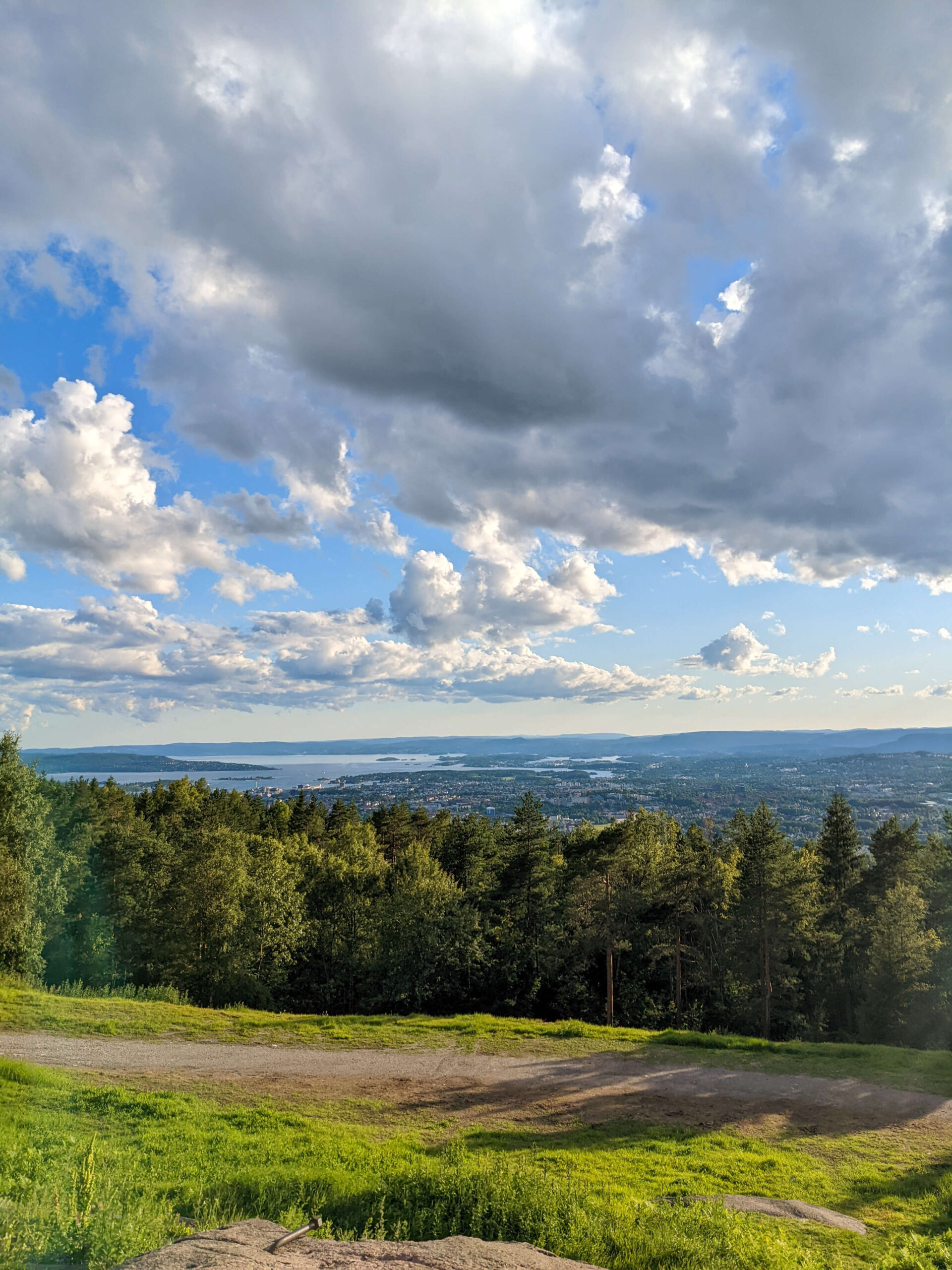 The Golden Chimp restaurant
That night, we went out for dinner at the Golden Chimp in Oslo. I'm a sucker for dumplings, and the Golden Chimp may be the most popular spot to get them in Oslo. Every seat was taken in this cosy restaurant, which is nestled in the vibrant streets of residential Tøyen, and decked out in retro furniture, potted plants and colourful knick-knacks: paper lanterns, monkey figurines, empty winebottles, and ornate pots holding feathers collected on window-sills and vintage cupboards. Mirrors and lamps joined bright-coloured paintings mounted on the walls, and candles flickered atop of every table. It was a vibe… and the food was even better.
Bettola
Trina and I sipped cocktails at Bettola bar after getting our dumpling fix at the Golden Chimp. In equal parts modern and cosy, with plush stools organised around small tables and couches fitted in the space's many corners, Bettola gave Trina and me the perfect atmosphere to catch up in a relaxed setting with delcious cocktails, and reminisce on the great couple of weeks we'd just shared. (Love you, Trini!!)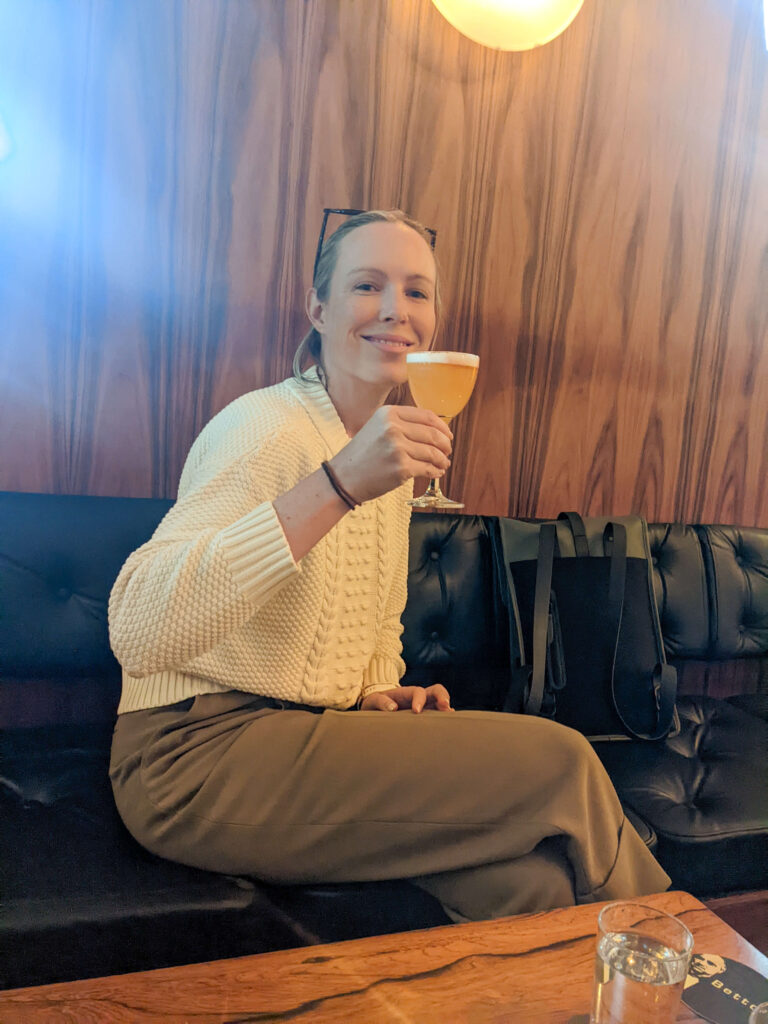 ---
Subscribe
If you want my posts straight to your inbox, simply enter your email below! No spam, promise.