Returning to my hometown of Brisbane in Australia from overseas, from faraway places such as Canada, Germany, New York, or Norway, I am, time and time again, shocked – pleasantly so – by the heavy heat, the moist air, and how soon my armpits itch with warmth after I am expelled from the artificial cold of the airplane and, reaching before that, after the weeks, months or years I had spent wrapped in a different country's climate.
I was thrilled to encounter a similar sensation when I stepped off the plane in Proserpine, north of Brisbane, this time from a Brisbane climate, ready to sail the Whitsundays. As my city skipped through another mild winter, I had left it that morning wearing a woollen jumper. When I stepped onto the tarmac of the North Queensland airport, though, I quickly realised that jumper was unlikely to be of much use. Yes, I thought, this is the winter weather I can get around. Balmy and bright, even in mid-July.
Proserpine is the gateway to the Whitsunday Islands by air, situated a short 30-minutes' drive to the region's springboard that is Airlie Beach. If you haven't heard of the Whitsundays, I can almost guarantee you will have seen a picture of the vicinity: Heart Reef, for example. Just to give you an idea of what I was dealing with, the Whitsunday Islands are made up of sand so white it's almost hard to look at, water so clear it's hard not to look at in disbelief, and (mostly) untouched, untamed wilderness everywhere in between. Where the wilderness has been touched, it has been to make room to drop a hulking, luxury resort on the beachfront, such as is the case for Hamilton and Hayman Islands. Of the 74 islands that make up the Whitsundays, I have read, just eight of them are inhabited.
To be straightforward, this Whitsundays sailing trip transpired from a fortunate mix of good timing, good luck and, of course, good, old-fashioned hard work. I secured and completed a big project for a client a few months prior, raking in more money than I usually do for a month, which meant I had the means to fund this tropical escapade without much notice. Plus, the trip had already been organised by my housemate, whose friends had not one but two keen sailors among their group, and had chartered a yacht for a full seven days. All I needed to do was accept the invite and proffer a little over a thousand dollars. Easy(-ish)!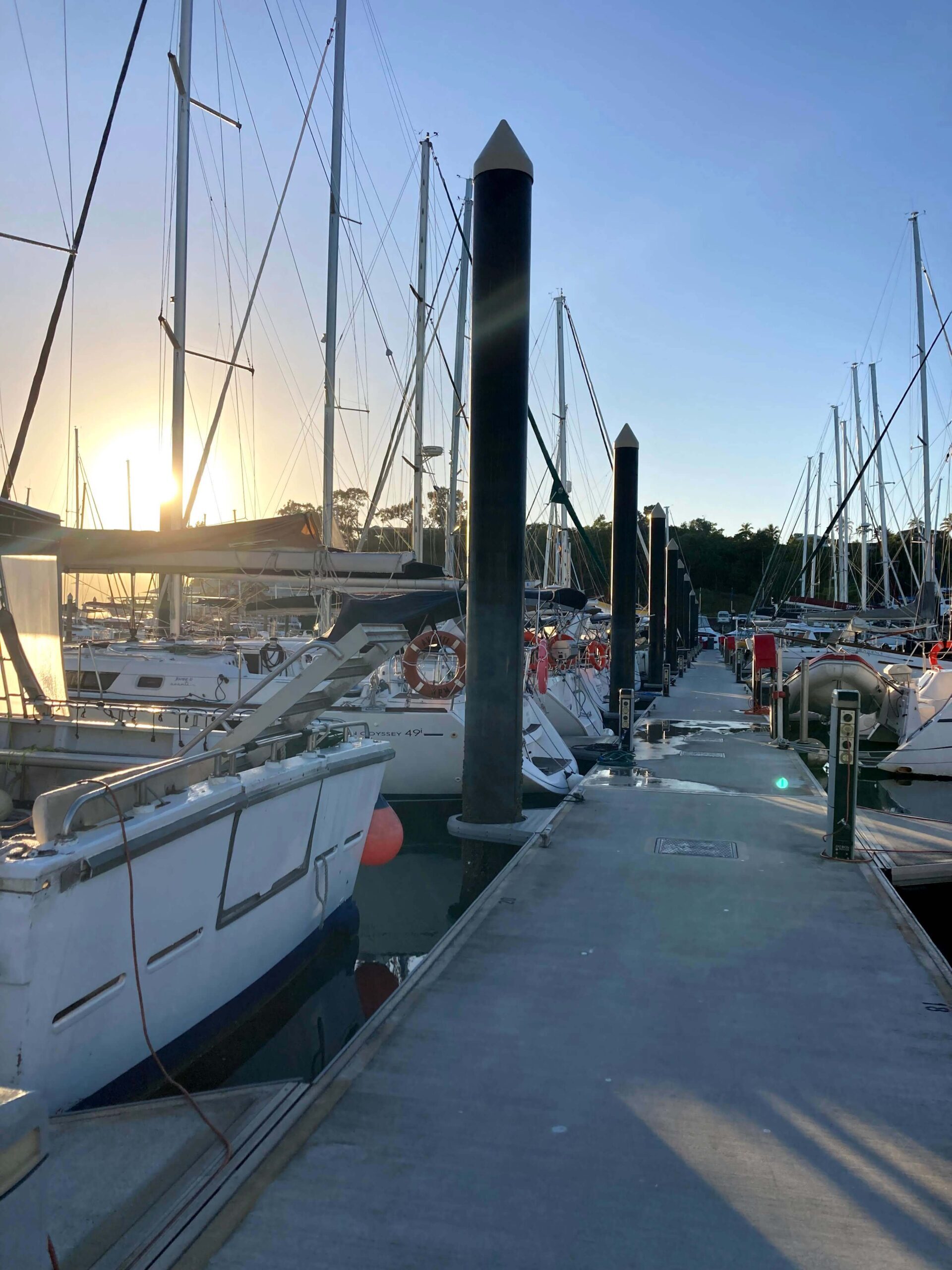 We were shuttled from the airport to Airlie Beach, where gently rocking atop the cyan waters of the Coral Sea Marina was our home for the next eight days: Miss Devereaux. A 33-foot monohulled yacht, Miss Devereaux had just enough room for our group of eight. We dropped off our luggage and, after a quick look around her humble quarters, headed back to Airlie Beach to complete a few important to-dos before setting off the next morning.
Dinner that night was at Sorrento Restaurant, where an empty table was not in sight as tourists rubbed elbows and shared pizzas and lively stories; the air was sizzling with promise and charged with that particular buzz that only being on the edge of a holiday can elicit.
‍
Sailing day one
After a compulsory introductory brief the next morning from Frank of Queensland Yacht Charters, we set sail. The moment that our instructor left us to continue our journey, jetting back to the marina on his own tender once satisfied we could handle Miss D and the Coral Sea on our own, was the moment that my heart swelled with joy.
The sun poured delightfully down my head and back, mixed together with the wintry ocean wind the temperature was sublime; my (heavily sun screened) skin warmed and glowed. The sea stretched out in front of us, a deep blue, its waves sparkling under a glassy sky, its vastness punctured occasionally by the bulky shapes of distant islands, enshrouded in mist. Then came the thrilling tilt of the sailboat – heeling, the technical term is – as the sails were dropped and the motor cut, the wind allowed to lean into us, engaging the sea in a great tug of war in which our boat was the rope, pitching and pulling in great heaves.
For about three hours we sailed the sea, enroute to Nara Inlet, a narrow incision that sliced Hook Island, providing a protected anchorage for our very first night at sea. A calm, clear inlet greeted us upon arrival; the sounds of other sailors travelled atop the glassy waters: murmurs and laughter and the clink of glasses. Toasts to the holidays, I assumed.
All eight of our group piled into our tender (the small dinghy attached to the boat that allows you to reach the shallows while the sailboat is safely anchored) to explore Hook Island, where a small walk through dense bushland led us to ancient cave drawings of the sacred Ngaro Aboriginal site.
‍
Nara Inlet (Hook Island)
Though dependent on weather, of course, I do think the nature of this inlet offers one of the calmest anchorages in the Whitsundays; it certainly provided so for us! The water was so still and clear it reflected the greenery of the island's arms around us. A great Groper fish surprised us with a visit during breaky the next morning, likely lured to our vessel in the hopes of enjoying some of the same.
Sailing day two
Langford Island
On our way to Butterfly Bay, we made a stop for lunch at Langford Island, a skinny sandspit in the northern Whitsundays which, according to Frank, is perfect for snorkelling. Though keen to arrive at our final destination with plenty of sunlight, we didn't don our snorkels and stinger suits to verify this claim. We did, however, walk the beautiful sandy spit to the tip and back, following the path at the base of the island to a lookout, which granted us beautiful views of the coral-reef-rimmed island and the nearby Hayman resort.
Back to our sailboat, a flounder of bright yellow at the bow caught my eye; a school of fish, each as big and almost as flat as dinner plates, scurried about each other in the current there. We threw some bread and they greedily sucked up every last crumb, and seemingly would have continued to do so for hours if we hadn't stopped, wondering how much (if any) bread should play a role in a tropical fish's diet.
Butterfly Bay (Hook Island)
Though so named for its shape, Butterfly Bay did indeed keep thousands of butterflies within the folds of its island's deep green, prehistoric-looking rainforest; it was magical to wander through a slight opening in the dense bush only to send hundreds of the colourful creatures fluttering. Lending to this island's ancient charm was the state of its beach: not yet sand, hundreds of thousands of chalky coral pieces collected from the forest edge right down to the shoreline. It was like walking on pebbles, or even bones, and painful, too, if one happened to leave one's shoes on Miss Devereaux (oops).
I should have like to snorkel here, but settled for the next best thing: a dip in the icy, crystalline waters. Another sailboat soon joined ours bobbing in the bay, and a couple and child glided through the glassy waters on their own tender, settling at the other end of the beach. A turtle sighting elicited a delightful shout from the pair as they snorkelled, exciting us all. As they did, we shared a toast with the glistening sun as it slid behind the hulking shadow of a neighbouring island, taking with it the heat and the stark brightness of the day, leaving a creamy, pastel sky in its wake.
‍
Sailing day three
We whiled away the next morning at Butterfly Bay in thick stinger suits and with rented snorkels stuck to our faces, hoping for further turtle sightings. Though we had no such luck, we did spot schools of Parrot Fish and Dories skirting throughout vibrant patches of coral; thick, brightly coloured sea cucumbers; dark caverns and crevices and great, underwater cliffs.
After lunch, we made our way to Whitehaven Beach, where we anchored and explored the fine sands of southernmost tip just before sundown – so soft it was almost like flour!
‍
Sailing day four
Whitehaven Beach
The snow-white sands of Whitehaven Beach are almost 98% pure silica, which, together with the kaleidoscope of turquoise and blue waters of the ocean, gives Whitehaven a surreal, swirling shoreline landscape that draws many travellers. Unsurprisingly, it is perhaps the Whitsundays' most iconic region. We completed the walk through the forest to the Hill Inlet Lookout, which gave us an extensive view of the breathtaking coastline. After a photoshoot (of course) we headed back to the boat to pick up some much-needed supplies (and enjoy a much-needed shower) at Hamilton Island.
‍
‍Hamilton Island
We didn't explore this resort island for the fact that, having a sailboat, we were free to explore the 68-odd islands that were people-free. However, due to the popularity of Hamilton, it allowed sailors such as us to stock up on bounty (i.e., Coopers Pale) and enjoy a shower.
‍
Turtle Bay (Whitsunday Island)
As was the case with Butterfly Bay, we approached our next destination, Turtle Bay, hoping that it was dubbed as such for a reason. It certainly seemed this was the case; not a few seconds in from anchoring near the shores of this secluded island, we saw a long snout poking out of the ripples. We piled onto our rubber-ducky-yellow tender to take a closer look, though, considering we were a group of eight with little care to keep our voices down, I wasn't surprised that our plan didn't transpire, and the creature completely vanished into the depths of the ocean. We did have a quick look at the beach instead, and sobered to find the sands scattered with micro-plastics; we filled our pockets until they bulged and decided to return again the next morning with garbage bags in tow.
Sailing day five
The next morning at Turtle Bay, I and two others of our group took an early zip on the tender when the water was still and crystal clear, the shores still fast asleep. The water was so clear, in fact, that I could see right through it to the coral, seaweed and sand beneath. We caught a squid from the tender, just minutes after we cast in the line, and spent the later morning further clearing plastic from the beach and snorkelling, during which some of our group spotted a baby shark. Our anchorage that night was to be at the nearby Lindeman Island, so we set off shortly after with a quick stop at Neck Bay.
Neck Bay (Shaw Island)
We very quickly traversed this island's 'neck', a 50-metres-or-so track through the forest to the other side, where we were presented another picture-perfect island view of vivid blues and greens. Back on the boat, we made our way to Lindeman Island to set up anchor for the night. Some of our group went ashore for a bushwalk, returning hours later with scratches running up their legs. Apparently, they'd taken the route less travelled. I was glad to have remained on board, submerged in my book.
I did, however, miss out on a pretty incredible view:
‍
Sailing day six
Lindeman Island
We sailed this morning to the north of Lindeman Island, on the lookout for the less overgrown bushwalk that led to an old resort. Cyclone Yasi ripped through Lindemann Island in 2011, leaving the resort that was sprawled among the trees of the Island's southernmost tip, Club Med Resort, in tatters. Naturally, we were keen to explore these tatters, having heard that they'd since been abandoned, left to nature to finish its devastation.
After a decent walk from our anchorage through a forest track, we were met with haunting scenes. A decrepit huddle of buildings, crumbled and discoloured, was slowly being swallowed by forest; weeds clambered up the walls, yellowed signs claimed to lead to terraces or tennis courts or (empty) swimming pools, and rows of rooms sat silent, their doors left ajar revealing dark interiors, where bug-ridden mattresses and kettles and dainty spoons lay, as if patiently waiting for someone to return.
Cid Harbour
Our journey through Cid Harbour proved to be one of the most memorable moments of the trip, for after all of our careful wishes of catching a glimpse of them, we finally experienced a rather (too) close encounter with a pair of humpback whales.
First spotting them in the distance, and letting out the sails to slow our momentum, we soon lost sight of them completely. As I tried not to succumb to disappointment and instead kept my eyes glued to where I had first watched their white tails rise from the sea, behind us came an enormous expulsion of air – they had surprised us all, breaching within ten metres of our sailboat!
Sawmill Bay
We whiled away the late afternoon at Sawmill Beach, having a quick dip before dusk settled, and a few beverages to salute the sun as it slipped under the horizon.
A note: A recent spate of shark attacks has prompted authorities to advise that you do not swim off your boat, or at dawn or dusk, in any of the bays within Cid Harbour. To be extra safe, we stayed in the shallows at all times.
Sailing day seven
We were all up, sunscreened and packed in the dinghy by 8am this morning, eager to take on Sawmill Island's Whitsunday Peak walk; not, I must clarify, for the unfit or for the hungry… the walk was long and, while not particularly gruelling, the sheer length of it had my legs aching for reprieve, my eyes blurring with the surrounds and my stomach wishing I had fed it more than a mere pancake with Nutella for breakfast.
The view from the top was more than worth it, however, as we enjoyed a near 360-degree vantage point of the neighbouring islands, seeing other sailboats as mere specks, shooting through the water with their white and frothy trains trailing behind them.
South Molle Island
Another pristine beach, another abandoned luxury resort left in a state of disrepair by Mother Nature's fury. On this final, blisteringly sunny day, we explored the remains of another abandoned resort, this one destroyed by Cyclone Debbie in 2017.
We explored the skeletal remains of what was once, I assume, a grand dining hall; I could imagine it abuzz with tourists in colourful sarongs and Hawaiian shirts, sipping cocktails, laying languid in the terrace that overlooked the palms, the honey-coloured sand, and the sparkling blue water.
Funnel Bay
Funnel Bay was our final anchorage for the trip, tucked in next to the Coral Sea Marina it served as our best chance of a restful evening, knowing that a long and unpredictable voyage wouldn't be required to return Miss Devereaux to her docking in the marina by 10 am.
‍
‍
The Whitsundays sailing guide
‍
How to pack food for your Whitsundays sailing trip
So that we didn't have to haul eight days' worth of food from the store in Airlie Beach to our yacht in the marina, we ordered our groceries online a few days before our trip and had them delivered to the marina the night before.
We'd carefully organised our menu beforehand, and as such went through most of our shopping list before the trip's end. Our sailboat had both a cooktop and a barbeque, so we were set!
‍
How to pack beverages for your Whitsundays sailing trip
Like your groceries, you can also have your beverages delivered. I would recommend steering clear of the small BWS in Airlie Beach (who expected us to haul 8 days' worth of booze for eight people a couple kilometres) and instead making your way to the Airlie Beach Hotel bottle shop. They have a larger selection, anyway, and they even gave us a lift back to the marina with our alcohol!
While the water on our yacht was safe to drink, it wasn't overly tasty, so you may want to bring bottled water on board with you.
‍
How to get to the Whitsundays
Proserpine is the easiest airport to fly into, from where several shuttle busses can take you to the marinas. I recommend you arrive the day before your charter begins!
‍
What to pack for a Whitsundays sailing trip
I will leave it up to you to decide how many pairs of underpants will suffice for your trip, however a few items I think you'll want to pack for your Whitsundays sailing trip are:
Sunscreen
Sunglasses, ideally with a strap
A water bottle to keep with you on deck at all times
A hat or three; one that you can fashionably fasten around your neck
A swimsuit or three, so you can hop into a dry one on deck after a swim
Kwells (for seasickness)
Baby wipes / hand sanitizer, especially if you, like me, find yourself on a boat without a real shower
A speaker, in case the yacht's own sound system isn't working well, and if you want to enjoy music on the islands
Phone chargers, though reception is patchy
Sturdy shoes for hiking
A beach towel; check if your charter company provides bath towels
A book/magazine/crossword puzzle book to while away the glorious sailing hours
Hair ties and leave-in conditioner if you have long hair. A delicious equation of whipping winds and salty seawater and zero showers equals tangles galore, so I kept my hair in braids mostly every day!
Facial moisturiser.
You can hire stinger suits, fishing rods, snorkelling gear and pool noodles from the Coral Sea Marina. If you book with Queensland Yacht Charters, snorkelling gear is included in your charter costs.
‍
Chartering a sailboat in the Whitsundays
I can't speak to the reasons behind choosing to charter with Queensland Yacht Charters for the week, not having played any role in the decision, however I can say our experience with the crew and the boat itself was great! She was an old girl, Miss Devereaux, so a few wrinkles here and there were to be expected. However, she was clean and functionable. I appreciated our thorough briefing from Frank the morning we set sail, as he offered plenty of advice about the best spots to anchor, rather than just sticking to a regulatory checklist. Overall, a seamless experience.
‍
Is a sailing trip still worth it if you get seasick?
That's a resounding yes, my friends! I had similar misgivings when I was first invited on the trip, as the only other sailing trip I'd been on had seen me heaving over the side of the boat for the entire weekend. The key is Kwells. Stock up on this anti-sickness medication and, though it says to take a half-an-hour before travelling, I took it at the first hint of nausea, and it worked wonders for me. In fact, after about three days of continual use in the mornings, I no longer had any need for them.
‍
Should I know how to sail?
In the Whitsundays, you don't actually need a licence to charter a yacht! Though Queensland Yacht Charters offered an extensive briefing session during the first morning, I must say that I was incredibly grateful to have two seasoned sailors on board with us. They were extremely knowledgeable and cautious about winds, tides and anchoring properly.
‍
Our Whitsundays sailing route
The below is a rough guide I sketched after our trip; it's not completely accurate but gives you a general gist of our route.
Sailing the Whitsundays guide – a quick itinerary
Day 1 – Arrived at Airlie Beach Airport and shuttled to the Coral Sea Marina. Slept that night in our chartered yacht docked in the marina, as we were due for our sailing briefing the next morning. A couple in our group spent the night in a nearby hotel at Airlie Beach.
Day 2 – Coral Sea Marina (Briefing at 10am then sailing) to Nara Inlet (Hook Island) (Anchorage)
Day 3 – Langford Island (lunch), Butterfly Bay (Hook Island) (Anchorage)
Day 4 – Butterfly Bay (Morning snorkel & lunch), Whitehaven Beach (Anchorage)
Day 5 – Whitehaven Beach (Morning walk to Hill Inlet Lookout), Hamilton Island (shower!) and Turtle Bay (Whitsunday Island) (Anchorage)
Day 6 – Turtle Bay (Whitsunday Island) (Breakfast), Neck Bay (Walk), Lindeman Island (Anchorage)
Day 7– Lindeman Island (Exploring abandoned resort), Cid Harbour (Sailing with whale encounter!), Sawmill Bay (Whitsunday Island) (Anchorage)
Day 8 – Sawmill Bay (Walk up Whitsunday Peak), South Molle Island (Exploring abandoned resort), Funnel Bay (Anchorage)
Day 9 – Sailing back to Coral Sea Marina.
‍
Enjoy!
E. xx